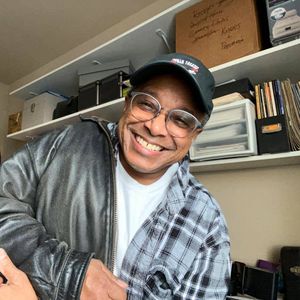 "Clif is a lush tenor with soaring melismas in his individual passages." Don Heckman, Los Angeles Times
Clif has opened in concert for Tony Bennett, Johnny Mathis, Dionne Warwick and has performed with Freda Payne, Evelyn "Champagne" King and Ledisi. 
"Clif conveys feelings and emotions. He's able to convey in those who listen to his music the emotions that he has experienced. The magic of a true artist is precisely to convey their emotions through music, and Clif manages to do this in a very special way!  Charm, class, refinement and perfect arrangements make Clif Payne an artist truly complete!"    Angelo Petruzzi, Founder/Radio Indie International 
"I love what Clif does. He will definitely make you feel the love!"
Pete Turner/Break It Down Show
THE VOICE OF SILK & SOUL
Harlem-born and classically trained, Clif has one of the most beautiful voices in music today. How it all began, Clif reminisces:
"One evening I was walking down the street looking for any club with a band that would let me "sit in" with them. I found this club named Erle's Solano Club in Albany, CA, just outside of Berkeley. Looking through the front window, I saw a thin African American man singing with a band. He was really good. So, I walked in and when the band took a break, I walked up to the singer and asked if I could sit in. He asked me, 'Are you good?' I replied, 'Yes, I'm good.' He asked again, 'But are you real good?'
I replied, 'Yeah, I'm real good!' 'Ok I'm gonna call you up during the next set' he replied. Well, I sat in with him on that next set and he was impressed enough to feature me as his guest soloist on his next 2 concerts. By the way, the singer's name was Bobby McFerrin and I had no idea he was months away from becoming an international jazz sensation."
Clif has opened in concert for Tony Bennett, Johnny Mathis, Dionne Warwick and has performed with Freda Payne, Sly & The Family Stone saxophonist Jerry Martini, Harvey Mason, pianist/arranger Laurence Hobgood, Ledisi, Evelyn "Champagne" King, Sheena Easton, Randy Jackson, Tower Of Power, keyboardist David Sancious, saxophonist Dave Koz, former Chicago lead vocalist Bill Champlain, the LA acapella ensemble Inner Voices and jazz fusionists Hiroshima. He has also shared the stage with Dianne Reeves, The Commodores, Mary Wilson, Shelia E. and Lakeside. Clif's album credits include George Benson, Little Anthony, En Vogue vocalist Maxine Jones, saxophonists Gerald Albright and Dave Coz, Phil Perry and Arsenio Hall Show music director Victoria Theodore. Pop superstar Katy Perry, pianist Taylor Egsti and trumpeter Chris Botti are among the celebs who have been in Clif's audiences. As a guitarist, Clif has backed impressionist Rich Little, legendary disc jockey Wolfman Jack, Danny Gans and former Platters lead vocalist Sonny Turner.
IN PERFORMANCE . . .
Clif demonstrates a passion and mastery of song interpretation spanning the genres of jazz, R&B, pop, folk and gospel. His connection to the audience is captivating and mesmerizing, having performed at various venues including LA's Jazz Bakery, Herb Alpert's Vibrato Grill Jazz, San Francisco's Great American Music Hall, Yoshi's Oakland, CA and the Gallo Center For The Performing Arts.
IN THE STUDIO
After years of singing on commercials (Chevrolet, Manwich, Delta Dental, Molson Beer), voiceovers and various artist albums, Clif released his first solo albums, Welcome To My World in 2016 and TOO in 2018. Both albums were a tribute to the classic R&B stylings of the 1980s & '90s and featured the legendary vocalist Freda Payne in duet with Clif. Welcome To My World featured their #1 U.K. R&B hit "No Payne, No Gain."
LEGACY 
Clif was born into a family of singers, musicians and preachers. The first song he remembers hearing on his minister grandfather's radio was The Platters version of "Smoke Gets In Your Eyes" at age 5. Clif's first vocal solo was "Steal Away To Jesus," sung at his grandfather's church at age 12. But it was hearing Donny Hathaway's version of John Lennon's "Jealous Guy" years later that began 18-year-old Clif's love affair with singing as a career and art form.
Clif is the son of James "Buddy" Payne, reedsman with the Lionel Hampton, Lucky Millinder, Cozy Cole and Fletcher Henderson bands of the Harlem jazz and R&B scene of the 1930s-1950s. While in Harlem the Payne's lived within walking distance of the Apollo Theater. James was a regular in the Apollo Theater bands. Clif's mother, Aline, taught by Tuskegee Alabama famed educators James Weldon Johnson and William Dawson, was an ensemble vocalist who once backed Nat "King" Cole. James was in Coles' accompanying band for the Tuskegee concert, and it's how Clif's Mom and Dad met! The Payne family lived in an apartment on St. Nicholas Avenue on Sugar Hill in Harlem. Duke Ellington lived on the floor above the Payne family, and Clif's Mom would tell her recollections of "just happening to be in the lobby" when Duke would pass through. (courtesy LinkedIn, https://en.wikipedia.org/wiki/Clif_Payne)
2023 Shows
December 1, 2023 - The Back Room, Berkeley, CA 8pm - It's Christmastime Again… and Again!!   Tickets
with Clif's V.C.B. (Very Cool Band)  & Special Guest singer/songwriter New Zealand's Maggie Cocco
November 11 - Private Event featuring Clif Payne, Outdoor Art Club Building, Mill Valley, CA  
September 30  - San Jose Civic Theater with The Lucky Devils Band 
September 8 - Golden Gate Park singalong with The Audience As Choir
August 25 - Friday Night Live From Los Angeles online with Terrill
March 25 - Received the Distinguished Alumni Award - Indiana University at Bloomington 
Jacobs School of Music's Singing Hoosiers
February 2 & 3 - With The San Francisco Symphony Orchestra at Davies Symphony Hall 
presenting composer/songwriter/vocalist Gabriel Kahane's Emergency Shelter Intake Form song cycle
2024 Shows
February 3 - The Community Music Center of San Francisco's R&B mini-concert featuring The Great Songs of Soul and R&B class ensemble, Clif Payne director
March 8 - Clif Payne w/V.C.B. Stevie's World: A Tribute to the Songs of Stevie Wonder, Tabard Theater, San Jose, CA
Cabaret seating - See this show in-person, Livestream & On-demand
May (Date to be announced) EPA Center For The Arts, East Palo Alto, CA